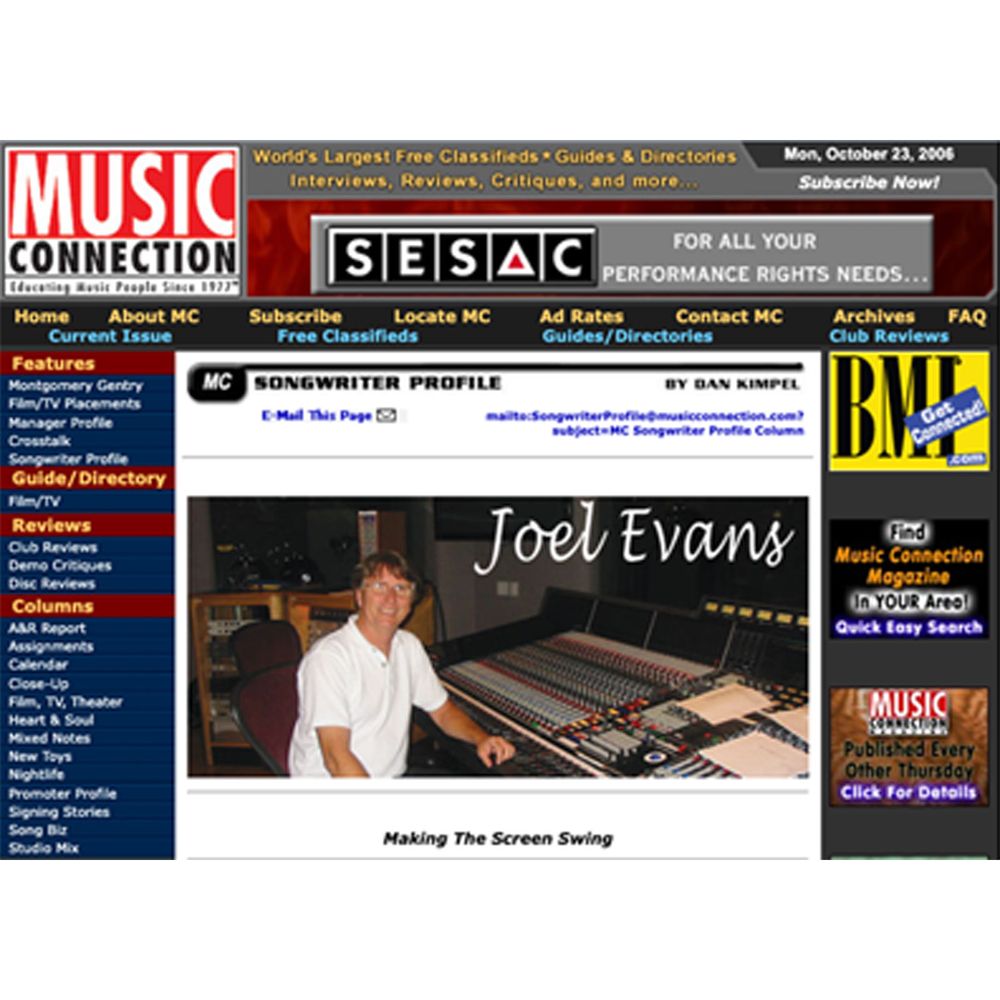 Must you endure the rigors of L.A. life in order to be a successful songwriter and composer for film and television? Not if you're distinctive and resourceful. Meet Joel Evans, a musician and bandleader from The Bay Area whose extensive list of credits includes major Hollywood films, hip indie flicks, network shows and daytime dramas, over 60 big screen credits and 250 television episodes and counting, from Wedding Crashers to Desperate Housewives.  
Still, despite living and working in relatively bucolic Northern California, judiciously timed trips to Los Angeles are on the calendar, says Evans. "I belong to the Society of Composers and Lyricists (SCL) and West Coast Songwriters Association which now has an L.A. Chapter. I track events –– what ASCAP, BMI or SESAC has going on –– and coordinate trips so I can go for several days." While in town, Evans, who specializes in using live players, also sets up recording sessions with L.A. talent, and he expresses admiration for both the quality and responsiveness of the players and singers he enlists as he references a session with vocalist Tami Tappan Damiano. "We were doing Doris Day and Julie London style songs and Tami can do them both. A week before, I'd sent her Mp3s and lead sheets. She's a busy lady, but she walked in and nailed both of these things. It's not the kind of skill you'd find up here." 
Evans has built his own catalog, Cinemasters, and he has also worked extensively with companies that place songs: Position Music, PEN Music Group, Independent Distribution Collective and many other firms. His first big break in visual media came when he met Marc Ferrari of MasterSource at a pitch session sponsored by the West Coast Songwriters Association. As he recalls, "It turned out to be a bossa nova thing I played for Marc and he included it in his catalog." When a composer disappeared from a project that needed tracks within a week, Ferrari enlisted Evans. "He sent me a few things to listen to and I got them down with five players, and they've since been used a number of times." 
In configuring music, Evans will generally take live players into a studio, track the basics, then return to his home studio to edit, overdub vocals, guitars, piano and other instruments before returning to the original studio to give the tracks the requisite polish. He often e-mails MP3s back and forth with collaborators, and he also enjoys writing with an actual collaborator in the room as well. Among his key co-writers are Nashville-based Lisa Aschmann and pop/theatrical writer Adryan Russ.  
Evans' Hollywood-sophisticated melodies are often used on screen to evoke sumptuous surroundings like hotel lobbies and upscale restaurants, so it's no coincidence that Evans spent many years performing in just these types of venues as a live player. Swing, big band and jazz: he occupies a decided stylistic niche. "I can't do everything. I don't write stuff that's like what's on the radio. I decided early on to hell with it, I'm going to do stuff that I love."
www.cinemasters.com